VERY RARE Antique VICTORIA Miniature Hanging Oil Lamp with Prisms, S1-248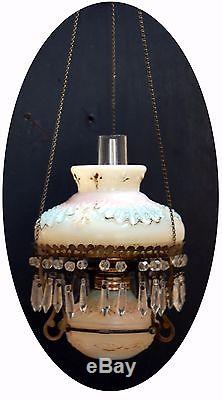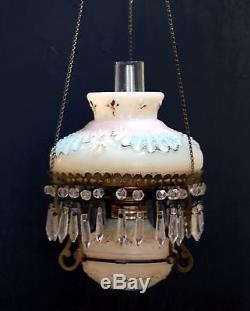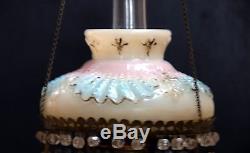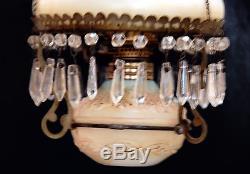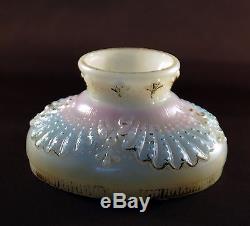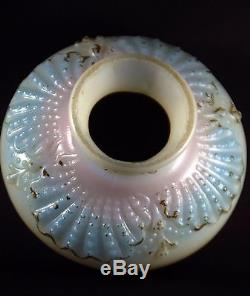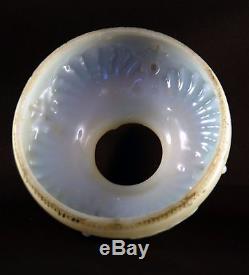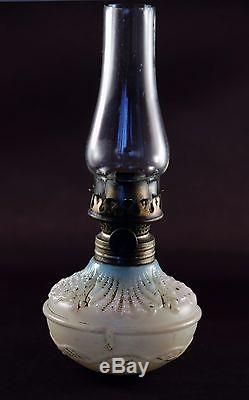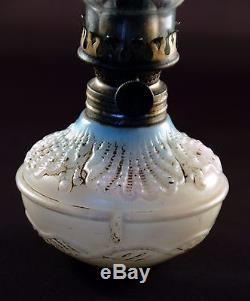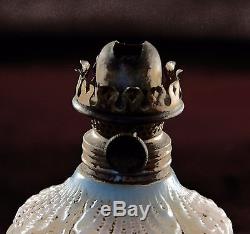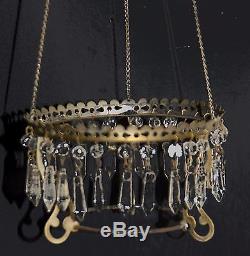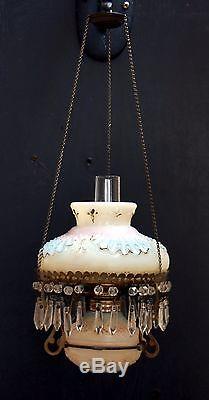 VERY RARE VICTORIA Hanging Miniature Oil Lamp, S1-248. "Victoria" Hanging Miniature Oil Lamp, S1-248.
About 11 3/4 to top of hanger ring. About 4 3/4 tall from bottom of font to top of shade. Shade about 4 in diameter at fitter. Base about 3 in diameter at widest point. Acorn burner marked "THE P&A MFG CO ACORN".
With glass prisms, as in book. One of the two rarest members of a "family" of about eight Victorian Night Lamps. This particular lamp is pictured in Figure 248 of Frank & Ruth Smith's book "Miniature Lamps". The other members of this family are pictured in Figures 243-247 and 250 of this book and Figure 126 of Marjorie Hulsebus' first book "Miniature Victorian Lamps". Two other similar lamps are shown in Figures 249 and 253 of the Smith book.
However, these two lamps are of questionable authenticity, i. Parts of them are authentic and old and parts are from newer, and probably not antique lamps.
The reason collectors view these lamps as being related is that they share striking similarities even though the lamps are all quite different from each other. These similarities are that they are all made of an opaque white or off-white glass, they are all embossed with similar patterns, especially on the umbrella style shades which grace all of these lamps and they are generally faintly tinted with shades of pale pink and/or pale blue. In the old wholesale catalog pages (some of which are reproduced in the front of Ruth Smith's "Miniature Lamps II"), the five members of this family of lamps which are pictured all have women's names (the lamp being offered here is called "Victoria"; the others are "Nara", "Elsie", "Erminie" and "Diana").
In her "Price Guide for Miniature Lamps" Huselbus rates the various members of this family as being "common" (S1-243 and S1-244 the "Nara"), "scarce" (S1-245 the "Elsie", S1-247 and H1-126), "rare" (S1-250 the "Diana") and "very rare" (this lamp, S1-248 the "Victoria" and S1-246, the "Erminie"). The lamp pictured in the 1900 "Our Drummer" wholesale catalog does not have any prisms. The Smiths note that the lamp is found both with and without prisms.
It is considered complete and correct in both versions. The catalog page which shows these lamps notes that they are offered in "assorted colors--pink, blue and ivory". The Smiths note that the paint on these lamps (including yellow, not mentioned in the old catalog and some gold trim) was not fired on well. This particular lamp does have both pale pink and blue shading on both the base and the shade. Note that the font of this lamp (see the ninth photo) was molded with three notches equally spaced around the side of the font. These notches align with the three arms of the hanging bracket allowing the font to sit snugly in place in the bracket. Condition of this lamp: This lamp is in excellent condition with no discernible chips, cracks, defects or other signs of damage. As would be expected from paint that was not fired on well, much of the gilding is worn. However, the pinks and blues are fresh and bright. The brass hardware on this lamp is in fine condition. The lamp has an Acorn burner whose thumb wheel is marked "THE P&A MFG CO ACORN". The thumb wheel turns freely; there is no wick in this lamp. The collar is firmly affixed to the font and has no splits or cracks. The bracket itself is also in fine condition.
A clear glass chimney, also in excellent condition, comes with this lamp. The chimney has rough cut top and bottom edges.
Measurements are to the left beneath the first photograph. There weren't very many hanging night lamps made. This "very rare" Victoria hanging night lamp is one of the few that was made. It is well known and highly prized among miniature lamp collectors.
It is the first one offered with its clear glass prisms. About the Use of Words Like "Scarce" and "Rare". We realize that some eBayers, not having or knowing of a better way of assessing an item's scarcity, use these terms quite subjectively and frequently based on their own personal experience.
They simply don't know whether an item is common, scarce or rare. We take two steps to describe the scarcity of a lamp. First, we only use the words "Scarce", "Rare", "Very Rare", "Very Very Rare" and "Extremely Rare" if the item in question is judged to be so by an acknowledged outside and independent source. For miniature lamps, we use the ratings in Marjorie Hulsebus 2006 edition of the "Price Guide for Miniature Lamps". Marjorie's ratings are also somewhat subjective (they are based on the collective view of a panel of 12 experienced miniature lamps collectors--we were members of that panel), but were at least arrived at independently of the sale or offering of any particular lamp. We keep all of this data in an online database and make the database available free of charge to members of the Night Light Club and to others who have requested access. The contents of this listing are protected by U. The use of substantial portions of this listing verbatim or with only inconsequential changes.
Without the express written consent of the authors. Our objective is to have happy, satisfied customers. We will work with you to satisfactorily resolve any problems. We try to answer all questions promptly.
We do our best to describe all items accurately. However, mistakes and oversights can occur. Please also note that the receiving country's Custom Service may cause delays in item's arrival. Interested in learning more about miniature lamps?
Want to meet other miniature lamp collectors? Please check out our other auctions. The item "VERY RARE Antique VICTORIA Miniature Hanging Oil Lamp with Prisms, S1-248" is in sale since Friday, March 03, 2017. This item is in the category "Collectibles\Lamps, Lighting\Lamps\ Non-Electric\Miniature". The seller is "kayschwartz" and is located in Stockton, New Jersey.
This item can be shipped worldwide.

---