RARE Antique Cranberry Opales. Snowflake Mini Oil Lamp, with Metal Filigree S1-474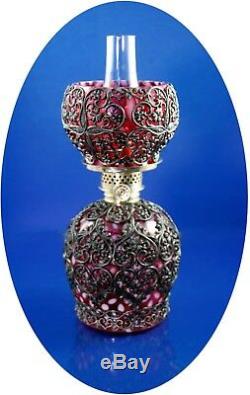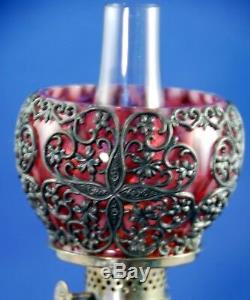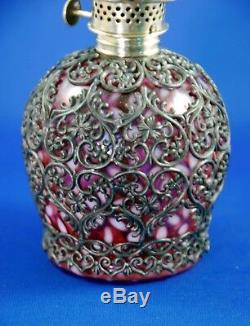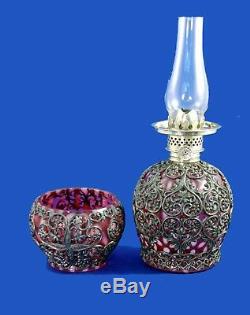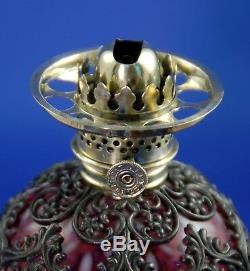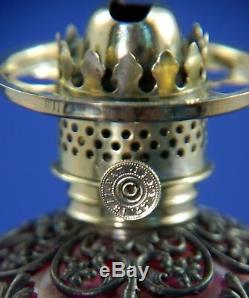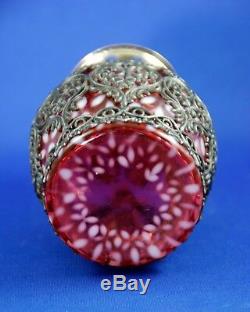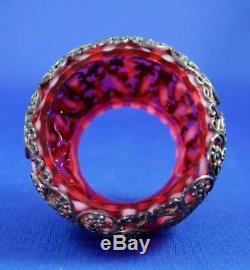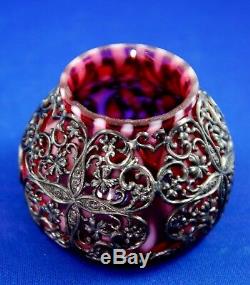 "RARE" Cranberry Snowflake Miniature Oil Lamp Covered with Metal Filigree, S1. Cranberry Optic Enamelled Miniature Oil Lamp, H1-210. About 7 1/8 tall to top of shade. About 2 3/8 in diameter at base. Probably manufactured by Hobbs or Northwood, Ca. A few very small spots of solder on shade filigree. Probably Manufactured by Hobbs but possibly by Northwood.
Two lamps, both very similar to this one, are shown in Frank & Ruth Smith's book "Miniature Lamps" in Figures 473 and 474. The differences between those two lamps are quite minor and appear to be slight differences in the opalescent patterns on the glass parts of the lamp and similarly slight differences in the pattern of the metal filigree which covers both lamps. The glass on this lamp is a beautiful opalescent cranberry in a pattern which is generally called "Snowflake". In addition, Hobbs is known to have held the patent for the manufacture of opalescent glass (McDonald, "Evolution of the Night Lamp"). So, we believe it is likely that this lamp was manufactured by the Hobbs Glass Company (or its predecessor Hobbs, Brockunier & Company).
Based on some comments by McDonald, however, there is a possibility that the lamp was made by the Northwood Glass Company, who apparently made lamps that were in some respects at least similar to lamps made by Hobbs. They had a similar shape to this lamp.... For example Figure 471 in Smith I which is attributed to Northwood by McDonald "Evolution of the Night Lamp". Lamps like this one were not mass produced. They were only made in small quantities because of their complexity and the time and expense involved in making them.
First the glass itself is true cranberry glass made with gold (the process of making cranberry glass is explained in a note below). Next the opalescent snowflake pattern was made using a Hobbs patented process (also explained in a note below).
Finally the intricate filigree probably made of pewter. A malleable alloy of tin and a variety of other metals such as copper, antimony, bismuth, lead and even silver after being formed was fitted over the glass and attached. Condition of this lamp: This lamp is in excellent condition.
We can detect no chips, cracks, flea-bites or other defects in the glass. The filigree is also in complete and very good condition, but close inspection reveals some very small and hard to detect minor spots of solder which may represent post-production repairs. The brass hardware on this lamp has been cleaned and polished. The collar is securely attached to the font and a dated Nutmeg burner screws tightly into the collar. The burner's thumb wheel is embossed "PAT FEBY 22 1877"; that's the date of a patent issued to Lewis J.
Atwood--of Plume & Atwood, manufacturers of the burner. The patent is for the manner in which the burner is constructed; the wick dome and burner gallery are made as an integrated unit and are easily removable for cleaning and/or wick trimming. This patent is reproduced in the appendix to Frank & Ruth Smith's book Miniature Lamps. The burner thumb wheel easily adjusts the old wick that is in this lamp. Finally, the shade ring fits snugly over the burner gallery and holds the shade securely in place.
A clear glass chimney, also in fine condition, completes this lamp. Measurements are below the first photo to the left. Hulsebus, in the "Price Guide for Miniature Lamps" rates this lamp as being "rare". This lamp, in particular, is a fine example of the glass and metal working artistry of either Hobbs or Northwood. About the Use of Words Like "Scarce" and "Rare". We realize that some eBayers, not having or knowing of a better way of assessing an item's scarcity, use these terms quite subjectively and frequently based on their own personal experience. They simply don't know whether an item is common, scarce or rare. We take two steps to describe the scarcity of a lamp.
First, we only use the words "Scarce", "Rare", "Very Rare", "Very Very Rare" and "Extremely Rare" if the item in question is judged to be so by an acknowledged outside and independent source. For miniature lamps, we use the ratings in Marjorie Hulsebus 2006 edition of the "Price Guide for Miniature Lamps".
Marjorie's ratings are also somewhat subjective (they are based on the collective view of a panel of 12 experienced miniature lamps collectors--we were members of that panel). But were at least arrived at independently of the sale or offering of any particular lamp. We keep all of this data in an online database and make the database available free of charge to members of the Night Light Club and to others who have requested access. The manufacture of dark red, or "ruby", glass was a delicate and expensive process.
It required adding a solution of gold dissolved in Aqua Regia (a mixture of hydrochloric and nitric acids) to the molten glass mixture. Getting the proportions of gold and acid correct was critical; minor errors resulted in an unattractive muddy color rather than the desired clear bright red color. The amount of the gold and acid solution added to the molten glass determined the darkness of the color. Somewhat less solution resulted in a lighter colored "cranberry" glass while more of the solution resulted in a deep red "ruby" colored glass. A further complication is that initially the resulting glass looks gray and only turns to the desired red color when the glass is reheated. Because of the complexity of the process, "ruby" or "cranberry" glass was generally only made in small or "craft" quantities.
This process is believed to have been initially discovered by early Roman glass-makers. The process however was lost and was not rediscovered until sometime in the 17th Century either by Johann Knuckel in Bohemia or by Antonio Neri in Florence, Italy (experts are uncertain as to who deserves the credit).
It was not however until the 1920s that the chemistry was understood and explained (by 1925 Nobel Laureate in Chemistry Richard Zsigmondy). The legend that ruby, or cranberry, glass was first created when a nobleman tossed a gold coin into a vat of molten glass is just that.
A legend without a basis in fact since the gold would have had to been first dissolved in Aqua Regia. The height of ruby and cranberry glass production appears to have been during the Victorian era. The contents of this listing are protected by U. The use of substantial portions of this listing verbatim or with only inconsequential changes without the express written consent of the authors is prohibited. Our objective is to have happy, satisfied customers.
We will work with you to satisfactorily resolve any problems. We try to answer all questions promptly.
We do our best to describe all items accurately. However, mistakes and oversights can occur.
Please also note that the receiving country's Custom Service may cause delays in item's arrival. Interested in learning more about miniature lamps? Want to meet other miniature lamp collectors? Please check out our other listings. The item "RARE Antique Cranberry Opales.
Snowflake Mini Oil Lamp, with Metal Filigree S1-474" is in sale since Monday, December 3, 2018. This item is in the category "Collectibles\Lamps, Lighting\Lamps\ Non-Electric\Miniature". The seller is "kayschwartz" and is located in Stockton, New Jersey. This item can be shipped worldwide.
Featured Refinements: Antique Miniature Oil Lamp

---