RARE Antique Cranberry Diamond Pattern Art Glass Miniature Oil Lamp, S1-527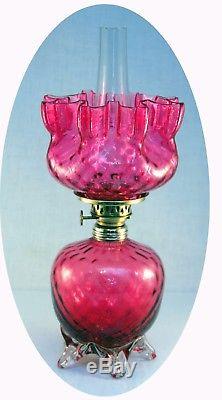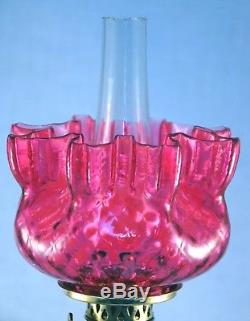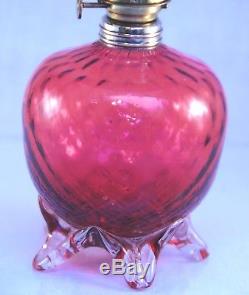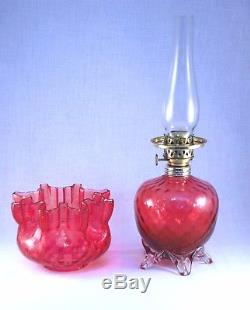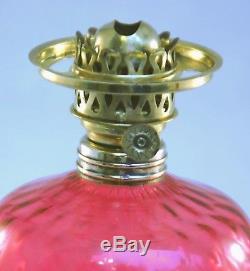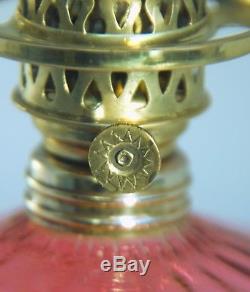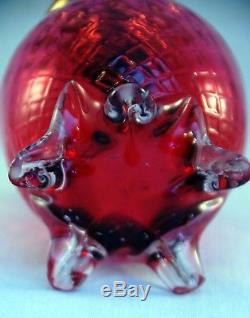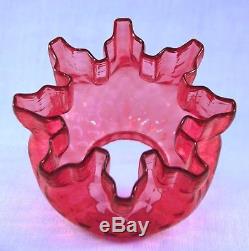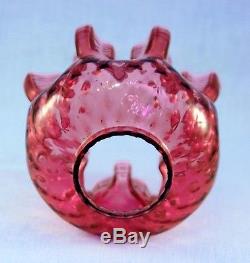 RARE Cranberry Diamond CranberryHoneycomb Art Glass Night Lamp, S1-527. Cranberry Diamond Patterned Night Lamp, S1-527. About 8 tall to top of shade.
About 4 tall to top of collar. About 3 1/4 wide foot to foot. Shade about 4 1/2 wide at top. Cranberry Diamond Patterned Miniature Oil Lamp. Clear glass feet flouresce under black light. Nutmeg style "Wide Awake" burner with sunburst pattern on thumb wheel. Bottoms of feet slightly ground (probably done at factory).
Made of optic-molded cranberry glass. A lamp very much like this diamond patterned cranberry glass lamp with its highly stylized ruffled up-shade is shown in Figure 527 of Ruth and Frank Smith's book "Miniature Lamps". The only difference between this lamp and the one in the book is that the lamp in the book has a spherical base, while the base on this lamp is more ovate.
However, for all intents and purposes, the two lamps are the same. While we don't have any information on who made this lamp, we do know that it was made sometime before World War I and we can tell a good bit about how it was made. We know it was made before about 1915 because the clear glass applied feet glow, or fluoresce, when viewed under black light (see the last photo).
This phenomenon and how it tells us that the lamp is at least 100 years old and a legitimate antique according to the definition of the U. Unfortunately we can't be anymore definitive about when this lamp was actually made. We think it likely however that it was made sometime in the 1890s--the pinnacle of decorative and art glass night lamp manufacture. Two characteristics of the lamp tell us a good deal about how it was made. First it is a rich cranberry color.
As detailed in a second note below, the making of red, ruby and cranberry glass was an expensive and delicate process involving incorporating gold into the molten glass mixture and then reheating the glass to bring out the red color. Second, the glass has a subtle diamond pattern seen through a relatively smooth outer surface. The process used to acheive this effect is known as "optic molding" and is described by Catherine Thuro in her second book. In order to produce a lamp with a soft undulating pattern seen through a smooth exterior.
Two molds were used; a patterned one and a larger plain one. A gather of glass was first blown into the smaller patterned mold to produce a [piece] with relatively large and distinct protrusions. Still attached to the blowpipe the [piece] was removed from the patterned mold and placed inside the smooth larger mold.
When the glass blower further expanded the [piece] against the smooth interior of the mold, it forced thick projections to the inside of the [piece] for the desired effect. The softness of the pattern distinguishes optic-molded [pieces] from the faceted or shaped designs made by pressing. (Thuro, Oil Lamps II, page 11).
In addition, the clear glass feet on this lamp would have been manually applied to the base by again, a skilled glass artisan. All of these processes were expensive, time consuming and required skilled glass makers. Glass items made with these processes were generally made in limited quantities and are thus relatively hard to find. We think a lamp that shows up on the market about once every 4 years or so is truly rare.
Condition of this lamp: This lamp is in excellent condition. The bottoms of the clear glass feet do seem to have been slightly ground down. We suspect that this was done at the factory to ensure that the lamp stood straight. The shade is essentially perfect with just 3-4 minor flea bites (or tiny chips) on the bottom of the fitter. The brass hardware on this lamp has been cleaned and polished.
The double ridged collar is tightly affixed to the font and has no splits or dents. A Nutmeg style burner screws tightly into the collar. Based on the tear drop shaped vent holes. We identified this burner as a "Wide Awake" burner based on a page in an 1889 wholesaler's catalog George F. The Basset catalog is reproduced in Volume 3 of David Broughton's "Historical Lighting Reprints".
The thumb wheel which has a sunburst-like rayed pattern (or a multi-pointed star) turns freely; there is no wick in this lamp. A shade ring fits tightly over the burner gallery to hold the shade securely in place. A clear glass chimney with some flea bites both top and bottom on the rough cut edges completes this lamp. Measurements are beneath the first photo to the left.
All of the above characteristics make this a high-end Victorian night lamp rather than a mass-produced, mass-market lamp. We think this is a fine example of an extremely hard to find art glass night lamp--a relic of the Victorian era, one which may have been used for its intended function (to provide a small bit of light during the dark of night) or may have simply been a decorative accent piece in a Victorian home. The contents of this listing are protected by U.
The use of substantial portions of this listing verbatim or with only inconsequential changes without the express written consent of the authors is prohibited. About the Use of Words Like "Scarce" and "Rare". We realize that some eBayers, not having or knowing of a better way of assessing an item's scarcity, use these terms quite subjectively and frequently based on their own personal experience. They simply don't know whether an item is common, scarce or rare. We take two steps to describe the scarcity of a lamp.
First, we only use the words "Scarce", "Rare", "Very Rare", "Very Very Rare" and "Extremely Rare" if the item in question is judged to be so by an acknowledged outside and independent source. For miniature lamps, we use the ratings in Marjorie Hulsebus 2006 edition of the "Price Guide for Miniature Lamps".
Marjorie's ratings are also somewhat subjective (they are based on the collective view of a panel of 12 experienced miniature lamps collectors--we were members of that panel). But were at least arrived at independently of the sale or offering of any particular lamp. We keep all of this data in an online database and make the database available free of charge to members of the Night Light Club and to others who have requested access. Fluorescence in Old Clear Glass.
, found naturally as the mineral Pyrolusite, was used by by glass makers, as far back as ancient Egyptian and Roman times and up until about 1915, as a decolorizing agent in order to make clear, colorless glass. The natural material used to make glass contains iron impurities. These impurities impart a coke-bottle green (and sometimes brown) color to the glass. Manganese dioxide, added to the molten glass mixture, neutralizes the coloring effects of the iron impurities. Adding manganese to glass has a side-effect of which we doubt old glass makers were aware. While not itself fluorescent, manganese activates fluorescence in other elements or compounds. Clear glass which has had manganese dioxide added to it will glow with a green or yellow-green color when viewed under long wave ultra-violet ("black") light. This fluorescence turns out to be a useful test of the age of clear glass. The United States does not have large amounts of naturally occurring Pyrolusite; the mineral has to be imported from places like the Ukraine, South Africa, Brazil, Australia and China.
After the outbreak of World War I in Europe, manganese became increasingly hard to get; first, it was considered a strategic war material (it is essential to iron and steel production) and, second, the normal supplies lines were disrupted by the war. And, so, after about 1915, U. Glass makers switched to other decolorizing agents e.
Thus, clear glass which fluoresces (glows) under long wave ultra-violet (UVA or "black") light can be presumed to have been made before 1915. Incidentally, manganese dioxide is also the compound responsible for the "sun-purpling" of old clear glass; when exposed to short-wave ultra-violet light (UVC) (present in sun-light, or in germicidal lamps) over an extended period of time, the manganese dioxide will impart a purplish color to the glass. It has been reported that unscrupulous antique dealers especially in the Southwestern U. Would intentionally expose old glass to the intense desert sun (or to ultra-violet germicidal lamps) to create this purple color.
Purists among glass collectors consider this to be a travesty and believe that intentional or artificial sun-purpling decreases, rather than enhances, the value of old glass items. Note that is can be quite challenging to get an accurate i. That looks the same as what one sees with their eyes photograph of the fluorescence in the glass.
We work hard to get a photograph that looks like what we see, but there is usually some minor discrepancy either in the exact color or amount of the fluorescence. Should you examine a fluorescent lamp under black light, in a darkened environment, it will glow, but may not look exactly like the photograph we provided. Our objective is to have happy, satisfied customers. We will work with you to satisfactorily resolve any problems. We try to answer all questions promptly.
We do our best to describe all items accurately. However, mistakes and oversights can occur.
Please also note that the receiving country's Custom Service may cause delays in item's arrival. Interested in learning more about miniature lamps?
Want to meet other miniature lamp collectors? Please check out our other auctions.
The item "RARE Antique Cranberry Diamond Pattern Art Glass Miniature Oil Lamp, S1-527" is in sale since Sunday, December 11, 2016. This item is in the category "Collectibles\Lamps, Lighting\Lamps\ Non-Electric\Miniature". The seller is "kayschwartz" and is located in Stockton, New Jersey.
This item can be shipped worldwide.

---