Antique MILLER Banquet Oil Kerosene Lamp Ornate Embossed Brass Converted RARE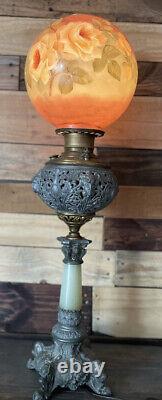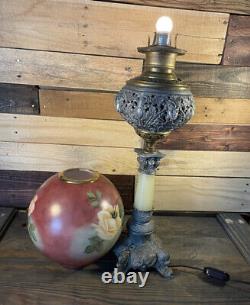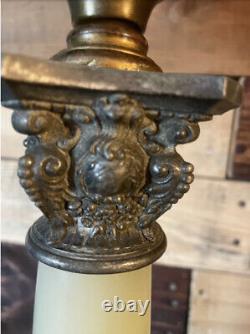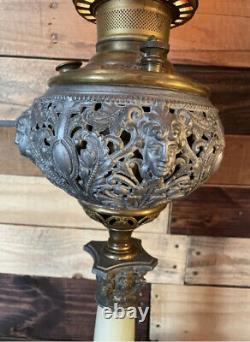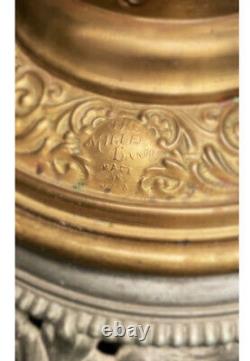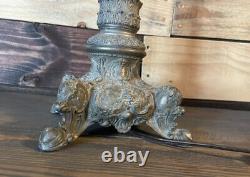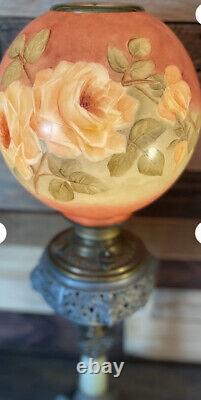 This antique Banquet kerosene lamp is a rare find, perfect for collectors of vintage lighting. The lamp features an intricate embossed brass finish and has been converted for modern use.
The Miller brand adds to the lamp's historical appeal. This antique brass lamp is a must-have for any home decor enthusiast. Width: 7 Inches; Height: 30 Inches.
This Gorgeous antique Victorian " The Miller Lamp" was Kerosene by birth and it falls within the Parlor Lamp category sometimes referred to as a banquet or Piano lamp. It Has since been converted to electric. Sitting at the top with a brass halo on is the porcelain ball globe from the late 1800's hand-painted around the same time the lamp was manufactured. The ball shade is an original to this lamp, and it definitely adds a heaping Stately presence. The lamp stands tall from base to top of clear chimney. The burner, globe holder, and tank as well;are all Brass. The tanks encasement os the beginning of the fount cast and filigreed metals gracefully making your way down to the Corinthian column made of Green Onyx and then you hit the base or foot, every bit of the metal you see is Pewter, strange. Then the base is an amazing combination of Victorian meets nouveau with flowing lines and smooth cross hatch chess board in the middle of the base on all four sea creature feet the base as a whole measures 7 inches wide, it is also satin pewter and nickel. The Lamp has the dates of manufacturing on the inside column of the central air shaft.
The switch is mid cord and serves as the on/off of the lamp.

---