Antique 1889 N. Muller's Sons Oil Lamp with Chinese Dragons & Asian Queen Mother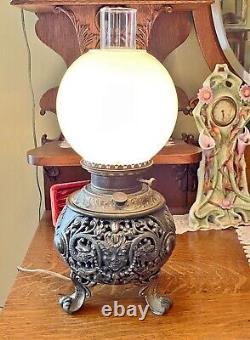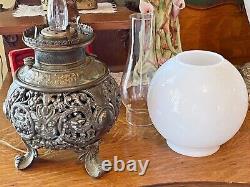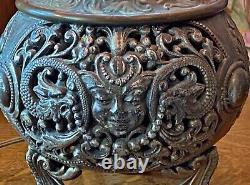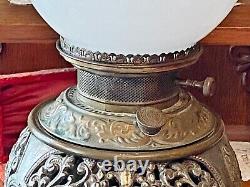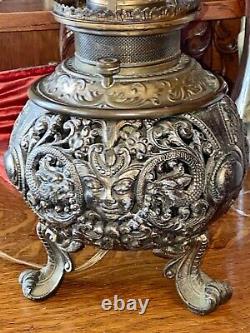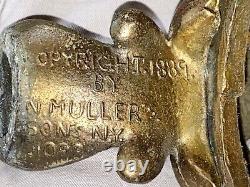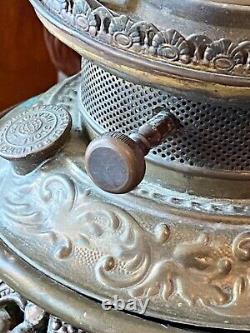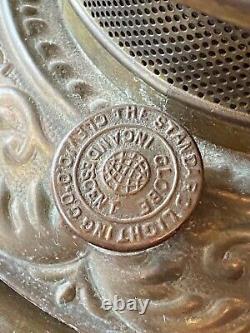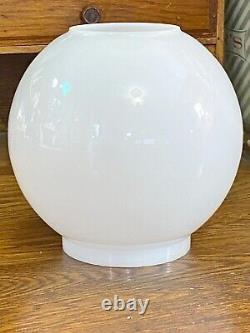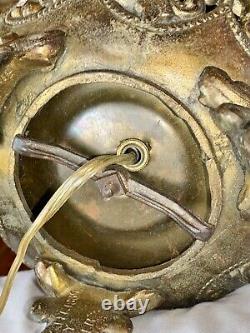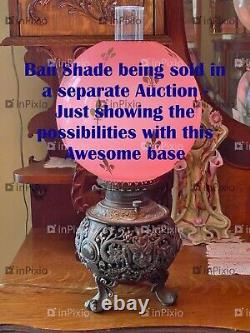 Muller's Sons Oil Lamp w/ Chinese Dragons & Queen Mother. Antique 1889 Kerosene Oil Lamp by Nicholas Muller's Sons. Of New York (see history below). The three-legged Heavy Cast Metal lamp base is repeated on 3 sides and depicts a Pair of Ornate Chinese Serpent Dragons, one on on each side of the Asian'Queen Mother. Of the West' - the Dispenser of Prosperity, Longevity, and Eternal Bliss in Chinese Religion and Mythology.
The Loong Dragons were symbols of Imperial Strength & Power. The cast metal base has a Brass Oil Font by Standard Lighting Co. Of Cleveland Muller's Sons used Standard Lighting Co.
Brass fonts in many of their oil lamp bases. The lamp has been professionally electrified with modifications made to the brass font & #2 burner only (FYI, the modified font can be easily removed and converted back to oil with a period font & burner if you desire to replace).
The font has a 4" shade holder with a #2 burner slip fit for a 3" OD chimney base. The decorative base measures 6-1/2" high by 8" in diameter; it measures 9" up to the shade holder and 14" to top of the 7 Opal White Ball Shade. The dark finish on the base has worn off in a few areas revealing a silvery metal finish personally, I think it would look really sharp if it was just the base silver metal color - but I leave that up to the new owner!
Otherwise, the Antique Ornamental Electrified Oil Lamp is in Very Good Condition. The Electrified Standard Lighting Co. All reasonable offers will be seriously considered! So Best of Luck to All - and keep checking back for more quality antiques, vintage collectibles, and fine jewelry!
History of Nicholas Muller & Sons. Nicholas Muller and his brother, Karl L. Muller, came to America from Germany in the late 1840's, and both started working for the Union Porcelain Company as sculptors in Brooklyn.
In the late 1850's, Nicholas started his own business producing bronzed cast metal figurines, including figural lamp bases and metal clock case fronts. In 1868, Nicholas went into partnership with Florence Kroeber, the famous clockmaker. Two years later Kroeber married Muller's daughter.
Although the partnership lasted only a couple of years, the two families remained close, and their two businesses even rented adjoining New York stores for many years. Before Nicholas Muller died in 1877 he turned his business over to his 3 sons under the new company name, N. They continued for the next 15 years producing unparalleled high-quality castings in bronze, silver, brass and other plated metals. In the early 1880's, they opened up a second store in Chicago. But by 1890 the competition in metal castings was overwhelming, causing them to go into bankruptcy.
About Me: I previously owned & operated a beautiful antique shop that specialized in antique/vintage estate jewelry, quality lamps & lighting, along with a variety of other unique, high-quality antiques from the late 1800's thru the 1950's. Items offered here are either from my former shop, or from my personal collection. Starting to downsize with hopes of moving soon; and my hubby says it can't all come with us! So, here's your chance to get this item at a great price!

---