Rare Vtg Antique 1877-87 Davis & Son Black Bonnet Clanny #D Oil Coal Miner Lamp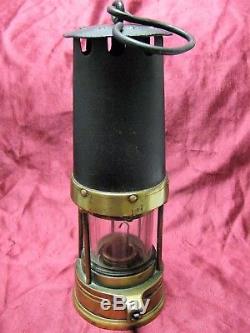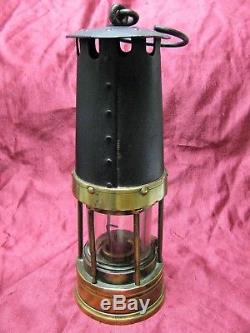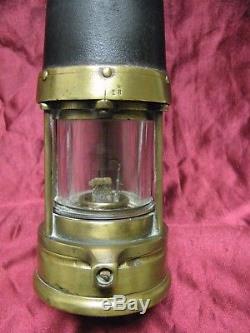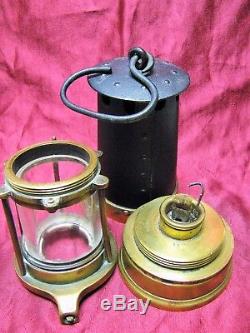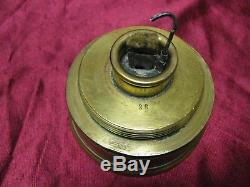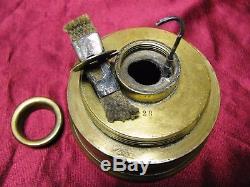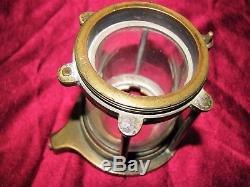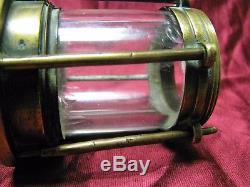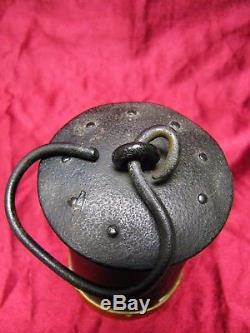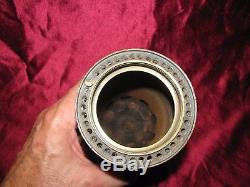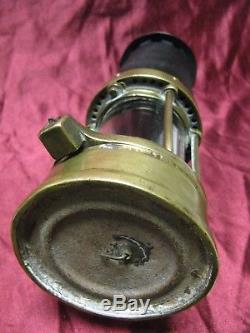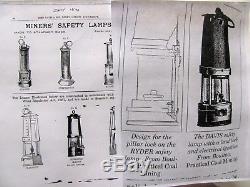 I highly doubt you will find another anywhere or for sale. For your consideration is this. D Oil/Kerosene Coal Miner Flame Safety Lamp with Ryder Patent Pillar & Screw Locks and Coal/Ore/Mantrip Car Hook.
John Davis & Son at All Saints Works, Amen Alley in Derby, England, made this No. Has the 1877 and 1892 catalogue scans online, note page 19 from the 1892 catalogue and the other pages as well as the lamp pics. My last pic also shows a much, much later J. Davis miner lamp with a lead lock and electrical ignition with a detail of the Ryder Patent Pillar Lock from Henry Pohs 867 page encyclopedia of all things mining.
The Miners Flame Lamp Book. Also, see his May 1887 British ad on pages 348-349 for a "Marsaut" with a Ryder Patent Pillar Lock type although that Davis lamp has a longer bonnet for the 2. It cannot be from Davis' son Herbert that were made in Baltimore, MD, from 1900 on because US law required all mining lamps to be stamped by the maker.
All that is stamped is the matching number 28 on the brass bonnet ring, top of the lens housing assembly and the font. The John Davis & Son dead giveaway is the 5 brass pillars arranged to provide a clear viewing area of flame above the screw key lock, a Ryder Patent Pillar Lock to secure the bonnet/lens housing when the font is attached, and no 1887 Patent No. 251 Stokes's "Appliance" or Absolute Shut-Off.
The screw type font lock, which is the easiest to defeat and most primitive, also indicates a 1877 to 1887 manufacture period for this unbadged John Davis & Son type No. Most UK mines started going to padlock, lead plug or magnetic locks around 1887 because of smoking and other miner caused explosions and mining regulations. CONDITION: In superior condition but not pristine, the exterior structurally is in remarkably excellent condition and I know why.
This lamp originally came with an iron gauze which probably got burnt and is missing so it was "retired" until a similar iron or even brass gauze was found, but never was. Also, the top asbestos gasket for the globe is missing which caused a few small chips on the glass lens, as shown. The black enamel paint on the bonnet is in spectacular original condition with only a trace of wear near the riveted seam, which is why I bought it. The missing gauze also explains why there are no dents or dings, bent brass pillars, or major scratches to the exterior.
The bottom of the base has an even light rust appearance. Original the way I found it, all I have done is blow off some dust and debris with canned air. Very Nice and Truly Very Scarce!!
DETAILS: This black bonneted Clanny lamp is approximately 10" tall to the top of the hook loop and the base is 3 ½" wide. That hook is very interesting, looks to be original because of the matching black enamel paint on the bonnet and pointed at the hook loop.
And no, I don't think it was bent but more likely is for the front of a coal, ore or mantrip car with a front hanging metal bracket or flat hoop. I haven't seen a hook like this, have you? This hook measures 2 ½" long making this lamp 12 ½" tall overall with the hook up. The wick is as found. The wire wick adjustment picker will not raise the wick because the wick has dried out and swelled, it's somewhat stuck.
The guys in the lamphouse usually just used their fingers to raise and you may do the same. Missing the screw lock key, there is no reason to lock this lamp or use needle nose pliers which might break off the tip of the screw lock.
I'm certain it would light with fuel and you would light just like they did at the lamphouse, with a match. Rest assured this item is as described. FINAL COMMENTS: I also collect coins so I don't clean coins or antiques or alter them in any way. I accept them as originally found.
Research and Hals Lamp Post suggests this came with an iron gauze. If you are a skilled craftsman, you could make an iron gauze or even a brass one, but why?
Miner lamp shows often have this Clanny size gauze but rarely in iron. You're not going to take it into a mine and when displayed who knows but you the gauze is missing? I won't tell if you don't. That missing gauze is why this lamp is in spectacular condition.
At most, replace the glass which measures 2 5/16" x 2 " (65mm x 60mm) and top asbestos ring. Don't try and spiff it up with the available white enameled reflector glass because it would not be appropriate to this vintage.
Thewandofscience still has these outer glasses in the clanny section, he's quit making gauzes but still has a few leftovers in stock. Or, beg him to make you a gauze, iron preferably.
He also has badges, but the John Davis & Son badge was not original to this bonneted Clanny and you would have to drill holes and install rivets, WHY? Just leave this beautiful lamp all as original and like the Beatles song, "Let it Be".
From my personal private collection, as my screen name suggests lights is what I did until I recently retired. I acquired this lamp as a teenager in the very late 1960s at either Ouray or Silverton, Colorado; gold and silver towns that were known to have had English and Welsh coal miners. This mining lamp is heavy brass, glass and steel weighing 43.6 ounces about 2 pounds 12 oz. 1.45 Kg and the box is about 11x7x5 inches.
I have no idea how much this will cost or the time it will take to get to its destination. Simply return in the condition sent. This item will be wrapped in heavy bubble wrap and inserted into a box with air pillows for mailing. I usually go to the PO EVERY DAY, except for Sunday.
And other FABULOUS DEALS AT farrarlight. Farrarlight is leading the way to GREAT STUFF CHEAP!!! (Except for some extremely rare stuff).
From a Smoke Free, Pet Loving. Energy Efficient, Mostly Organic, We Recycle, Patriotic American Environment. The item "Rare Vtg Antique 1877-87 Davis & Son Black Bonnet Clanny #D Oil Coal Miner Lamp" is in sale since Tuesday, September 12, 2017. This item is in the category "Antiques\Science & Medicine (Pre-1930)\Mining". The seller is "farrarlight" and is located in Wylie, Texas.
This item can be shipped to United States.
Maker: John Davis & Son
Burner: Oil/Kerosene Wick
Country of Manufacture: England
Lamp Materials: Brass, Steel, Glass
Lamp Type: Flame Safety Lamp
Fuel: Oil, Kerosene, Diesel
Date Made: 1877-1887
City of Manufacture: Derby, England
Font Lock Type: Screw
Special Feature: Ryder Patent Pillar Lock
Height to Hook Loop: 10"
Miner Lamp Type: Bonneted Clanny

---