RARE Antique Storm Bros. TOY STAND LAMP Miniature Oil Lamp, S1-11 Right, Ca 1877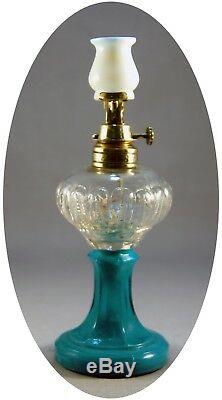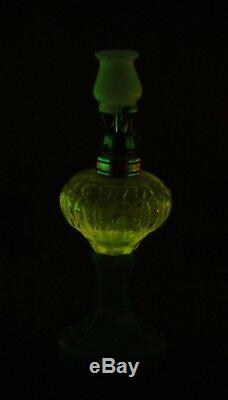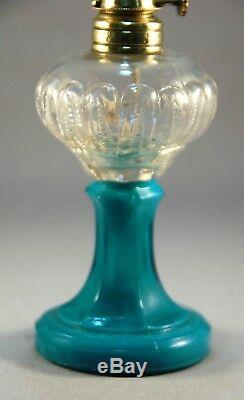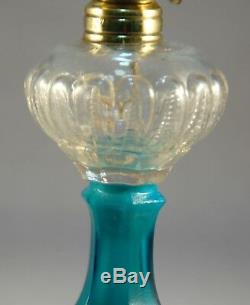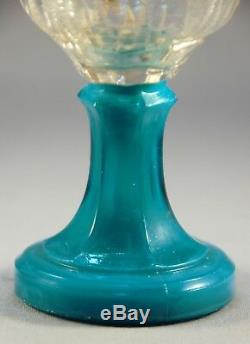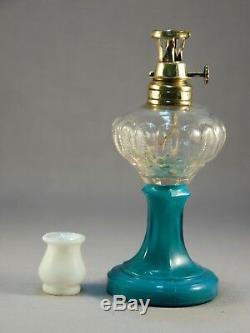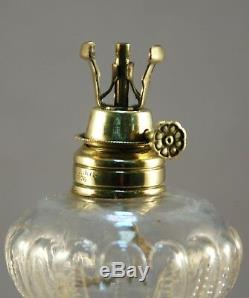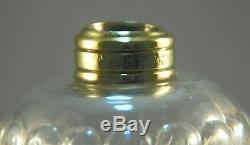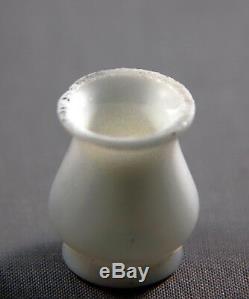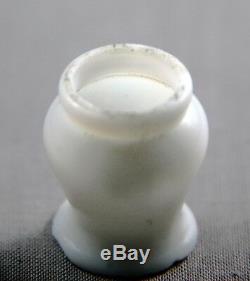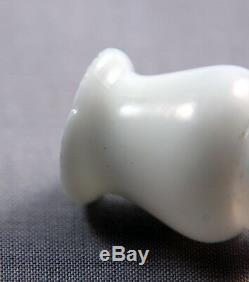 Teal Storm Bros 3755 S1-11R. "Rare" Storm Brothers "Toy Stand Lamp", Ca.
Also marketed as "Fire-Fly Stand Lamp". "Toy Stand Lamp" by Storm Brothers, S-11 Right. About 6 1/2 tall to top of shade. About 4 1/4 tall to top of collar. About 2 1/4 in diameter at base. Toy Stand Lamp with unusual Teal Stem. Clear glass font fluoresces under "black" light. Manufactured by Storm Brothers, Ca. Normal roughness on shade edges, very minor chip on top edge of shade. Frequently mis-identified as "Sandwich" glass.
Two very similar little lamps like this are shown in Figure 11 of Frank & Ruth Smith's book "Miniature Lamps". One of those lamps has a clear hexagonal font embossed with a star pattern in three of the panels, a feather pattern in the other three, and an opaque white milk glass stem.
The second has an opaque blue milk glass stem of the same size and shape as that on the first lamp and a round font embossed with a feather-like pattern. The lamp we are offering here is the one shown in the book on the right with the round font but with an unusual teal colored and partially transparent (what could be called opalescent) glass stem. The Smiths call these lamps "Sandwich Lamps" and then go on to describe them. This has led many dealers and collectors to refer to and attribute these lamps to the Sandwich Glass Company.
However, there is no evidence supporting that attribution. To the contrary, we have found evidence that these lamps were in fact manufactured by Storm Brothers, Glass Manufacturers of Philadelphia around 1877.
That evidence consists of old advertisements, a statement in Ann McDonald's "Evolution of the Night Lamp" on page 18 and a response to a query from the Sandwich Glass Museum. McDonald says Storm Brothers, glass manufacturers of Philadelphia, Pa. Made the prettiest pair of early kerosene lamps called Toy Stand Lamps (S-11). They were the only early night lamps with colorful blue or white pedestal bases. They were pictured in C & G [the Crockery & Glass Journal] , October 11, 1877.
We found a copy of a Storm Brothers' ad dated one month later (November 11, 1877) that shows these two same lamps (that ad is reproduced here and again at the end of this listing). Just to be certain, however, we contacted the Sandwich Glass Museum and asked them if these lamps could have been made by the Sandwich Glass Company. They had no knowledge of these lamps or any Sandwich glass items like them. What may be somewhat confusing is an ad by F. In the October 11, 1877 edition of the Crockery & Glass Journal showing seven versions of the "Fire-Fly" lamp (see the next to last picture at the end of this listing for a copy of that ad). One of those seven "Fire-Fly" lamps (shown at the bottom center of the ad) is labeled "Fire-Fly Stand Lamp" and is an exact duplicate of the drawing of the lamp shown at the left in the Storm Brothers ad. We can only deduce that there was a collaboration of sorts between Storm Brothers and Lovell. Certainly the Storm Brother's "Toy Stand Lamps" shown in the ad used Lovell's "Fire-Fly" burner. Perhaps Lovell had an agreement with Storm Brothers to market at least one of their lamps as if it were his. As noted above, McDonald says that these lamps both came with white or blue bases.
The Storm Brothers ad simply says that they came with "assorted color bases". Although almost all the examples we've seen have had either an opaque white or an opaque blue base, we have seen a single example with a clear glass base (or stem) and one with a dark green glass stem.
Ann McDonald, in a 1985 article entitled "The Patent Lamps of the 1870s" chronicled quite a bit of the history of the Storm Brothers Glass Manufacturers (also known as the West Philadelphia Glass Works) and identified a number of their products. That article has been republished on the web site of the Night Light Club and is available to club members. For those interested in the history of these lamps and the companies that made them, the article makes interesting reading. Note that, as shown in the second photo, the clear glass font of this lamp fluoresces, or glows gently, when viewed under "black" (ultra-violet) light, further confirming the lamp's age. See the note below for an explanation of this fluorescence. Condition of this lamp: This lamp is in excellent condition with no discernible chips, cracks, damage or flaws. The white milk glass shade (not a match to the shades shown in the old ads, but certainly age-appropriate) is in good condition. The shade edges are rough (as made) and the top edge of the shade has one very small chip--actually more of a nick than a chip. Brass "Taplin-Brown" collar is securely attached to the font, and a Fire-Fly burner (a Lovell product) screws tightly into the collar.
The collar is embossed "PATD APR 13 1875 MCH 21 1876" (and on this collar, the dates are clearly readable). These dates refer to two patents issued on those dates (one to George Brown and one to Alvin Taplin) relating to the process used to stamp the collars from sheet brass. The Brown patent is reproduced in the appendix to the first Smith book.
According to Thuro ("Oil Lamps: The Kerosene Era in North America") these patents were assigned to the Bristol Brass & Clock Co. Worked closely; Thuro notes that the company probably stamped the dates on the collars for only a few years after the 1876 patent date. The collar is in fine condition as is the Fire-Fly burner. There is no wick in this lamp; the thumb wheel turns freely.
The brass hardware, which is original to this lamp, has been polished. This really is a very nice example of a legitimately hard-to-find early (1877) miniature kerosene lamp with an usual and unusually attractive teal glass stem.
Fluorescence in Old Clear Glass. , found naturally as the mineral Pyrolusite, was used by by glass makers, as far back as ancient Egyptian and Roman times and up until about 1915, as a decolorizing agent in order to make clear, colorless glass. The natural material used to make glass contains iron impurities. These impurities impart a coke-bottle green (and sometimes brown) color to the glass.
Manganese dioxide, added to the molten glass mixture, neutralizes the coloring effects of the iron impurities. Adding manganese to glass has a side-effect of which we doubt old glass makers were aware. While not itself fluorescent, manganese activates fluorescence in other elements or compounds. Clear glass which has had manganese dioxide added to it will glow with a green or yellow-green color when viewed under long wave ultra-violet ("black") light. This fluorescence turns out to be a useful test of the age of clear glass. The United States does not have large amounts of naturally occurring Pyrolusite; the mineral has to be imported from places like the Ukraine, South Africa, Brazil, Australia and China. After the outbreak of World War I in Europe, manganese became increasingly hard to get; first, it was considered a strategic war material (it is essential to iron and steel production) and, second, the normal supplies lines were disrupted by the war. And, so, after about 1915, U.
Glass makers switched to other decolorizing agents e. Thus, clear glass which fluoresces (glows) under ultra-violet ("black") light can be presumed to have been made before 1915. Incidentally, manganese dioxide is also the compound responsible for the "sun-purpling" of old clear glass; when exposed to short-wave ultra-violet light (present in sun-light, or in germicidal lamps) over an extended period of time, the manganese dioxide will impart a purplish color to the glass.
It has been reported that unscrupulous antique dealers especially in the Southwestern U. Would intentionally expose old glass to the intense desert sun (or to ultra-violet germicidal lamps) to create this purple color. Purists among glass collectors consider this to be a travesty and believe that intentional or artificial sun-purpling decreases, rather than enhances, the value of old glass items. Note that is can be quite challenging to get an accurate i.
That looks the same as what one sees with their eyes photograph of the fluorescence in the glass. We work hard to get a photograph that looks like what we see, but there is usually some minor discrepancy either in the exact color or amount of the fluorescence. Should you examine a fluorescent lamp under black light, in a darkened environment, it will glow, but may not look exactly like the photograph we provided. About the Use of Words Like "Scarce" and "Rare".
We realize that some eBayers, not having or knowing of a better way of assessing an item's scarcity, use these terms quite subjectively and frequently based on their own personal experience. They simply don't know whether an item is common, scarce or rare. We take two steps to describe the scarcity of a lamp. First, we only use the words "Scarce", "Rare", "Very Rare", "Very Very Rare" and "Extremely Rare" if the item in question is judged to be so by an acknowledged outside and independent source.
For miniature lamps, we use the ratings in Marjorie Hulsebus 2006 edition of the "Price Guide for Miniature Lamps". Marjorie's ratings are also somewhat subjective (they are based on the collective view of a panel of 12 experienced miniature lamps collectors--we were members of that panel). But were at least arrived at independently of the sale or offering of any particular lamp. We keep all of this data in an online database and make the database available free of charge to members of the Night Light Club and to others who have requested access. The contents of this listing are protected by U.
The use of substantial portions of this listing verbatim or with only inconsequential changes without the express written consent of the authors i s prohibited. Our objective is to have happy, satisfied customers. We will work with you to satisfactorily resolve any problems. We try to answer all questions promptly. We do our best to describe all items accurately. However, mistakes and oversights can occur.
Please also note that the receiving country's Custom Service may cause delays in item's arrival. Interested in learning more about miniature lamps? Want to meet other miniature lamp collectors? Please check out our other listings. The item "RARE Antique Storm Bros.
TOY STAND LAMP Miniature Oil Lamp, S1-11 Right, Ca 1877" is in sale since Monday, November 5, 2018. This item is in the category "Collectibles\Lamps, Lighting\Lamps\ Non-Electric\Miniature". The seller is "kayschwartz" and is located in Stockton, New Jersey. This item can be shipped worldwide.
Featured Refinements: Antique Miniature Oil Lamp

---