LARGE Victorian antique OIL LAMP BRASS iron and PURPLE glass EAPG decorated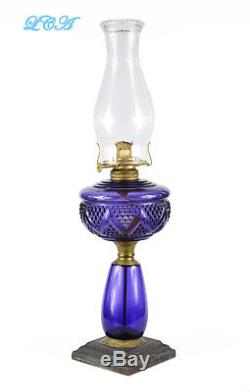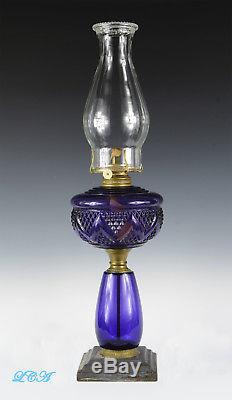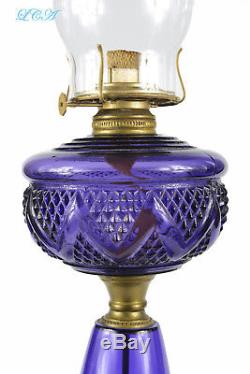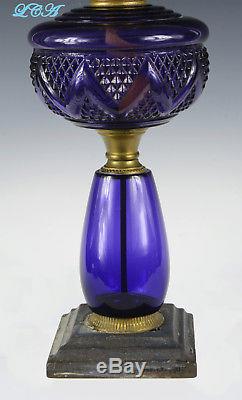 A completely beautiful LARGE TALL BRASS - iron - AND - purple GLASS original antique oil lamp. To top of collar, w/out chimney, and roughly about. With chimney, to the top of the glass chimney. This is an ORIGINAL (over One Century Old) ANTIQUE lamp, it has an IRON BASE, BRASS WORKS, AND beautiful 2 - piece DEEP PURPLE AMETHYST color glass bowl and body.
The glass bowl and body are original antique hand B lown I nto M old glass vessels (BIM), dating the lamp well over 100 years old. Condition : As a whole, the lamp is in very good condition. The glass is nice and clean, NO cracks, chips, dings, damage, etc. The iron base just needs to be lightly - cleaned up and painted if desired and all of the brass works look to be in good order. The burner even has the old original wick in it BUT the little dial that turns and moves the wick up and down does not work.
It turns but the wick does not move. Age : An early hand-blown lamp (Blown-In-Mold = BIM), ca. Late-1800's - early 1900's.
An outstanding looking antique oil lamp, look at the ornately decorated EAPG style oil bowl! The lamp stands on what appears to be a sturdy IRON or BRASS stand. Then it has an antique PURPLE GLASS body. Above this is a BRASS CONNECTOR that supports the PURPLE early American pattern glass OIL BOWL.
On top of the bowl sits the brass collar that houses the brass burner , and is topped by the glass chimney. All that adds up to a heavy and sturdy, big, gutsy looking antique oil lamp. Back then they made these things to really be able to stand up to all of the stresses and wear that they would be subject to, pride of craftsmanship really comes through in this lamp, starting at the heavy cast iron base. Though it is very durable and made for use, the ornately patterned glass bowl gives it an exquisitely ornate touch to it, a nice decorative look = a completely beautiful Victorian antique. If this lamp was going to be used for any other reason besides decoration, the burner should be replaced for safety. The old burner just screws right out, and a new burner right back in, very easy and simple to replace. Again, m ost of these antique oil lamps are just used as decoration and for that, this lamp is perfect.
But with a replaced burner, it would be, not only pleasant to look at, but also, at times of power outages or romantic evenings with a glass of wine, it can be used to give out that wonderful soft'antiquee' looking glow. (Again, if the lamp is going to be used for lighting, the burner should probably be replaced).
Then there's the beautiful deep purple amethyst color. We've all heard about old glass turning purple in the sunlight...
This beautiful purple amethyst color is the result of this bottle being made with manganese-glass. Manganese is a mineral, a rock, that was mined, crushed, and pulverized into a powder, then added to vats of molten liquid glass, and acted as a decolorizing agent to turn the natural aqua-tinted glass into a pure crystal clear colorless glass. But when exposed to the ultraviolet rays of the sun or other sources of UV rays, it triggers a chemical reaction and the manganese oxidizes and turns a wonderful amethyst color. Though some will suggest that this lavender color has been artificially produced or altered, whether a glass item has turned purple by the sun, by UV rays in a box, or by a sterilization process, they all turn the same purple color as it is all the same chemical reaction taking place. With few exceptions, only clear glass from before 1914 will turn sun-colored-amethyst. Not only does this deep purple/amethyst color make this a great looking antique bottle, but it also authenticates it as being truly antique! You rarely see these comination iron, brass, and glass lamps, with the glass in this deep sun colored purple, check it out! The item "LARGE Victorian antique OIL LAMP BRASS iron and PURPLE glass EAPG decorated" is in sale since Friday, March 30, 2018.
This item is in the category "Antiques\Decorative Arts\Lamps". The seller is "clancy_kid" and is located in Clancy, Montana. This item can be shipped worldwide.
Primary Material: G;ass
Age: 1850-1899
Original/Reproduction: Original
Item Description: Antique OIL LAMP functional
Era: Antique (Late 1800's - early 1900's)
Desirable Features: PURPLE antique OIL LAMP fancy fluted BIM
More color:: GRAPE Violet LILAC wine JAM orchid BOYSENBERRY
Style: Americana
Country/Region of Origin: United States
Color: Plum PURPLE amethyst AMETHYSTINE lavender MAGENTA

---