5AD Authentic Ancient Roman MAN & WOMAN EMBRACING Terracotta Oil Lamp i66818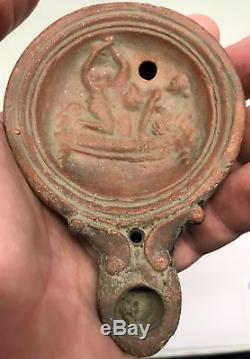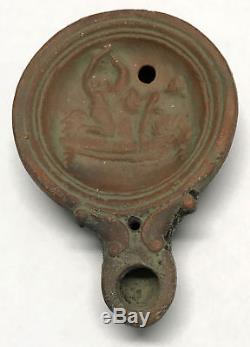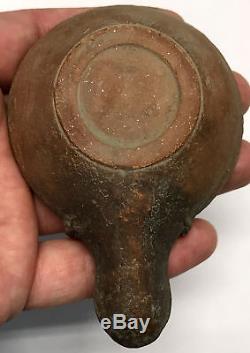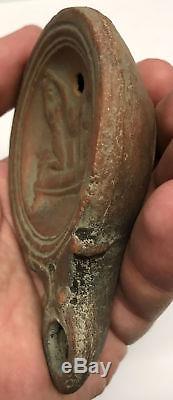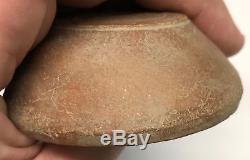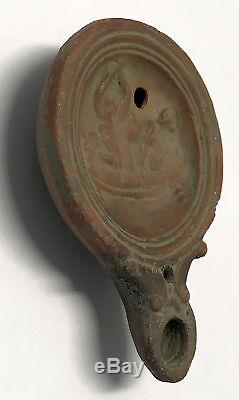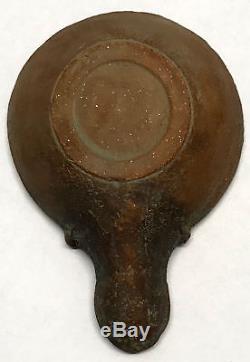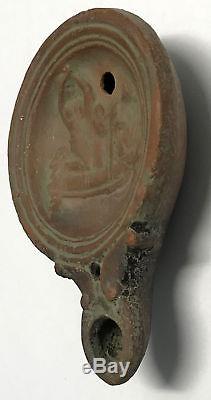 Oil lamps were used in ancient times for lighting of places. The oil would be placed in the top hole and the neck part would get a wick and be lit. This one is terracotta or made of clay. The ancient Romans would place various designs on these lamps.
The most sought-after designs are those of the man and woman embracing kind that are pictured and those of gladiators. Beautiful authentic ancient Roman artifact of everyday use, great rarity and desirability. Provenance: From private collection in the United States of America. Ownership History: From private collection in the United States, bought in private sale in the United States of America.
An oil lamp is an object used to produce light continuously for a period of time using an oil-based fuel source. The use of oil lamps began thousands of years ago and continues to this day, although not commonly anymore. They are often associated with stories in which rubbing an oil lamp would summon a genie dwelling in it, like seen in Aladdin. Group of ancient lamps (Hellenistic and Roman). Oil lamps are a form of lighting, and were used as an alternative to candles before the use of electric lights.
Starting in 1780, the Argand lamp quickly replaced other oil lamps still in their basic ancient form. These in turn were replaced by the kerosene lamp in about 1850.
In small towns and rural areas the latter continued in use well into the 20th century, until such areas were finally electrified and light bulbs could be used. Sources of fuel for oil lamps include a wide variety of plants such as nuts (walnuts, almonds) and seeds (sesame, olive, castor, flax). Also widely used were animals fats (butter, fish oil, shark liver, whale blubber, seals). Most modern lamps (such as fueled lanterns) have been replaced by gas-based or petroleum-based fuels to operate when emergency non-electric light is required.
Therefore, oil lamps of today are primarily used for the particular ambience they produce. World-renowned expert numismatist, enthusiast, author and dealer in authentic ancient Greek, ancient Roman, ancient Byzantine, world coins & more.
Ilya Zlobin is an independent individual who has a passion for coin collecting, research and understanding the importance of the historical context and significance all coins and objects represent. Send me a message about this and I can update your invoice should you want this method. Getting your order to you, quickly and securely is a top priority and is taken seriously here. Great care is taken in packaging and mailing every item securely and quickly. What is a certificate of authenticity and what guarantees do you give that the item is authentic?
You will be very happy with what you get with the COA; a professional presentation of the coin, with all of the relevant information and a picture of the coin you saw in the listing. Additionally, the coin is inside it's own protective coin flip (holder), with a 2x2 inch description of the coin matching the individual number on the COA. Whether your goal is to collect or give the item as a gift, coins presented like this could be more prized and valued higher than items that were not given such care and attention to. When should I leave feedback?
Please don't leave any negative feedbacks, as it happens sometimes that people rush to leave feedback before letting sufficient time for their order to arrive. The matter of fact is that any issues can be resolved, as reputation is most important to me. My goal is to provide superior products and quality of service. How and where do I learn more about collecting ancient coins? Visit the Guide on How to Use My Store.
For on an overview about using my store, with additional information and links to all other parts of my store which may include educational information on topics you are looking for. The item "5AD Authentic Ancient Roman MAN & WOMAN EMBRACING Terracotta Oil Lamp i66818" is in sale since Sunday, January 21, 2018. This item is in the category "Antiques\Antiquities\Roman".
The seller is "highrating_lowprice" and is located in Rego Park, New York. This item can be shipped worldwide.
Culture: Roman
Cultural Origin: Roman
Provenance: Private collection in the United States of America

---